Welcome to the Special Dreams website!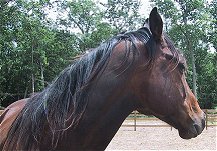 Special Dreams is a retired thoroughbred race horse who last raced on January 28, 2003 at Philadelphia Park. He won his next to last race convincingly, however he had developed chips in his right knee and after a fourth place finish in his last race, he was retired. Click here to see his lifetime results, click here to see his winning race results.
Special Dreams was bred and originally owned by Robert Camac, who was the breeder of Smarty Jones, the 2004 Kentucky Derby and Preakness winner. After Camac's untimely death in December of 2001, he was purchased by our neighbor who breeds and races several horses. We had the pleasure of meeting Special Dreams in early 2002 when he was temporarily residing in the paddock next door to our property. Quite a few horses had visited this paddock, and Special Dreams was by far the best tempered thoroughbred we had ever met. He left by summer of 2002 to start his racing career and ran at Philadelphia Park and Monmouth Park.
In late January of 2003, he reappeared at the paddock next door, which is when we found out that he was hurt and he was done racing. During the severe snow we had that winter, his owner couldn't make it out to feed him and we took over feeding duties, trudging through the almost waist deep snow to take out feed, hay and water. The next month his owner made us the offer of taking him, and the rest is history!
Our boy was born in January of 2000, his mother is Steve's Dream Girl and his father is Stormy Atlantic. We're currently trying to locate information on his siblings and mother, so please email us if you know of the whereabouts or any information regarding the following horses:
Steve's Dream Girl - his mom, who we believe is at Foxwatcher Farm in Newtown Square, PA.
Real Dream Girl (by Two Davids) - all we know is that she raced at Philadelphia Park in May/June of 2000 and Delaware Park in July of 2000.
Puppet (by Two Davids)
Suitecase Charlie (by Allen's Prospect)
A half-sister, Sarmentose (by Saratoga Six) , is still racing at Philadelphia Park and we were able to watch her race on June 6, 2004.
Click here to see Dreams' full pedigree.
One of his half-brothers, Salem Dreamer (by Two Davids) was rescued from a "kill" auction several years ago by the Thoroughbred Retirement Foundation. Salem Dreamer raced at Philadelphia Park in 1999 and 2000, then was sent to the infamous New Holland auction. He first went to the TRF farm at the Watkill, NY Correctional Center. We emailed the TRF and asked about his status and have found that he is now at Claybank Farms in Lexington, KY, a TRF satellite farm. Here is some of the text of the message we received from the owner of the farm (June 2004):
"He was one of several horses being ridden for use as an Inter-colligate Hunter. Several horses went to Murray State University in western KY. Unfortunately, Salem was a little strong for the first group of horses that went to Murray. He is still a possibilty, but needs lots of riding. Salem has an old injury in his right knee, it has not bothered him, and we hope it won't. He is a herd leader, and always the first to come when called. He is available for adoption, and would make a really nice horse for an experienced rider."
This message was wonderful news! We're hoping that he finds a good permanent home. Click here for a photo of Salem Dreamer.
He has a full sister, Ocean Avenue, foaled in 2001. She was sold at auction in 2002 (same auction as her monther) to Crupi's New Castle Farm in Ocala, FL. She has since been sold to Allen Iwinsky, a trainer based at Monmouth Park, NJ. Her maiden race was scheduled for Friday, June 11th, 2004 (and she was the favorite!). We were planning to head up for the race, however a last minute check on the web before we left showed that she was scratched. We'll be checking the Monmouth Park entries and hope to make it up for her first race.
Anne is quoted by the Associated Press! When we went to Philadelphia Park on June 6 to see his half-sister Sarmentose run and to meet his Jockey from his January 14, 2003 first place finish, a reporter from the AP interviewed Anne about Smarty Jones. Click here to read the article.
Update November 7, 2004
We're a little bit sad and a lot bit happy today. Over the past several months we have been working with professional trainers on attempting to re-train Dreams to be more of a pleasure/trail horse. Unfortunately, Dreams has other ideas of what his future holds for him, and being a pleasure horse does not seem to be one of them. He has been off-track for almost two years now, but he is a strong willed horse and when he works, he wants to work hard. Our horsemanship ability is not anywhere near his level, and to avoid the risk of injury to both human and equine, we sadly decided to find a new home for Dreams where horse and owner would be better matched.
We were able to find a new owner for Dreams who exclusively works with Thoroughbreds. She has the ability to work with Dreams and to channel his enthusiasm appropriately. She's happy, we're happy, and I know that Dreams will be much better off at his new home.
We have purchased a wonderful Quarter Horse gelding who is much more in sync with our limited horsemanship abilities. We fell in love with horses through Dreams and will never forget him because of that.
Update July 5, 2005
Today we visited Special Dreams at his new home! After a relaxing winter, he has now found a new friend in Sarah who is now riding him. Sarah has Dreams going at walk, trot and canter, and even beginning jumps! What a thrill it was for us to see him working the way he should be. He was definitely in his element! We think Sarah and Special Dreams make a great pair. Scroll down a bit for some photos of the two working together.
Special Dreams Photo Gallery: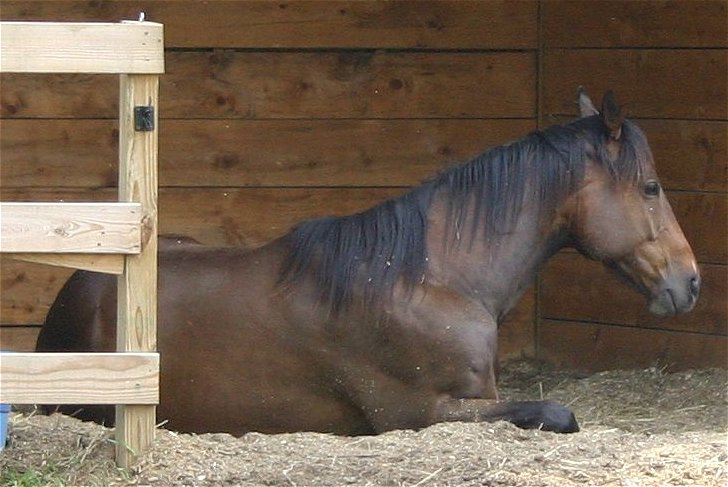 This is the first time we were actually able to catch him lying down in his shed!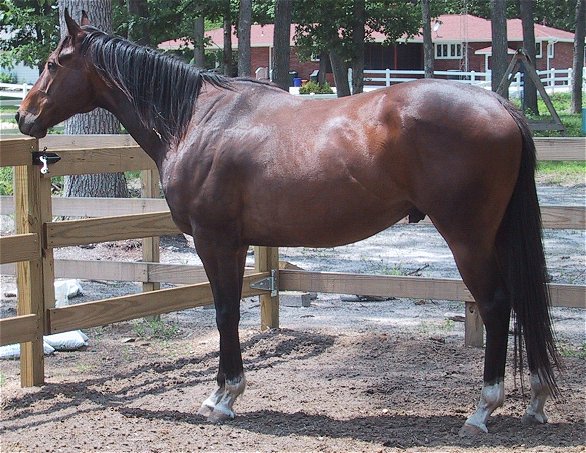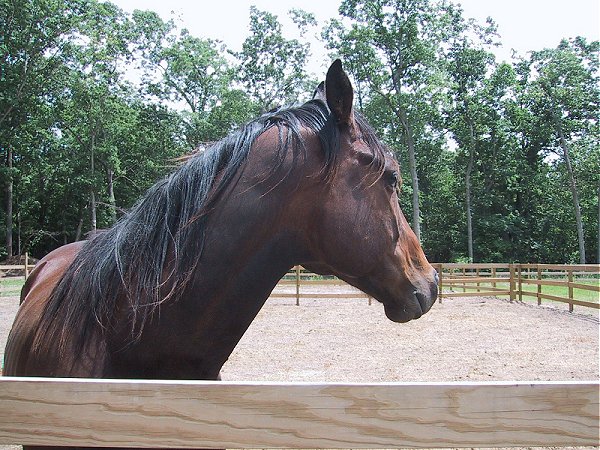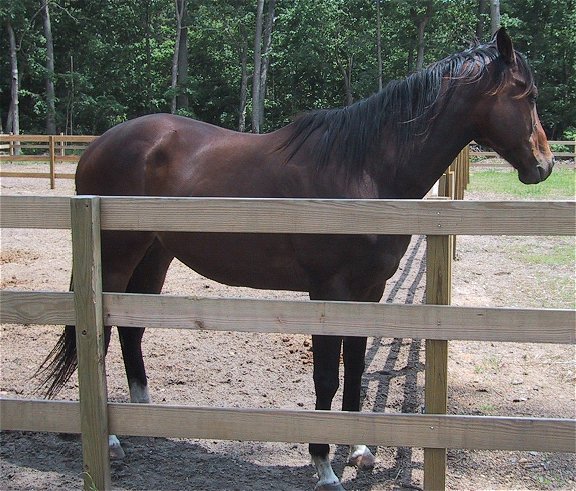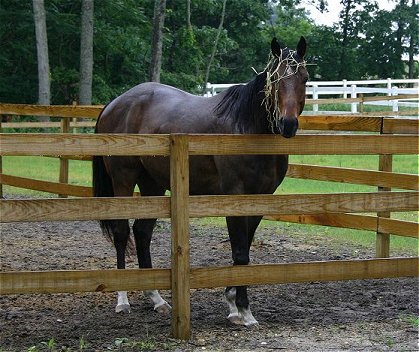 The following photos were taken on July 7 at Special Dreams new home. Sarah is now working with Dreams on a regular basis.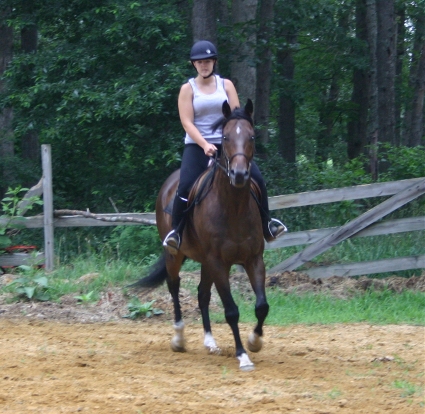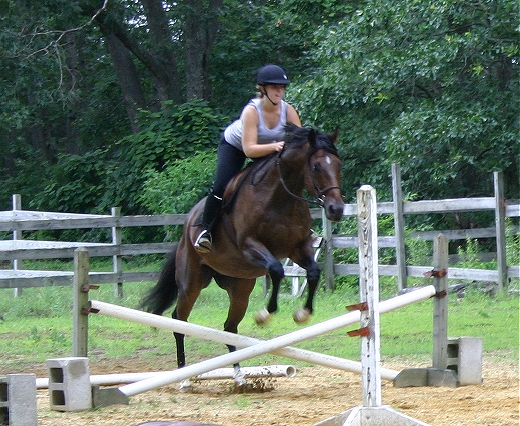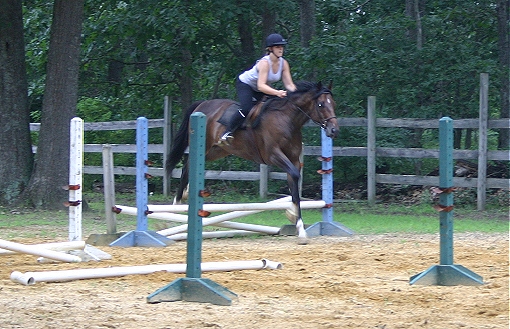 Siblings:
Sarmentose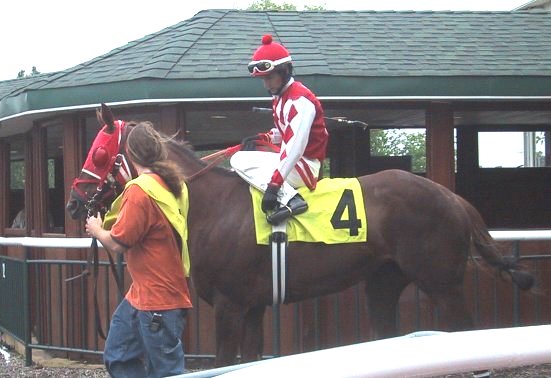 On June 6, 2004 we went to Philadelphia Park to watch his half-sister, Sarmentose, run. After
leading through half of the race, I'm sad to say that she finished dead last.
Salem Dreamer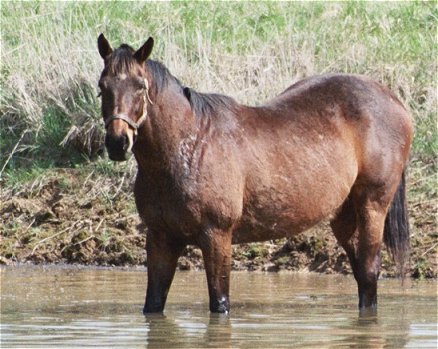 We received this photo of Salem Dreamer taking a dip at the TRF farm in Kentucky.
Mickey & Hershey Gallery (our two quarter horses):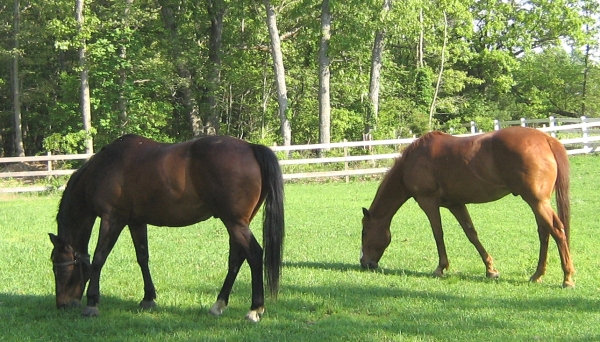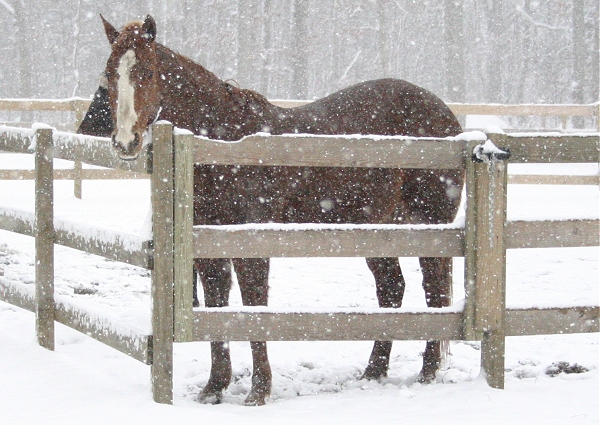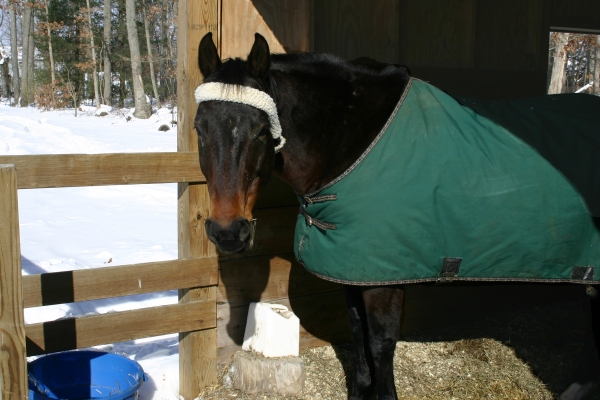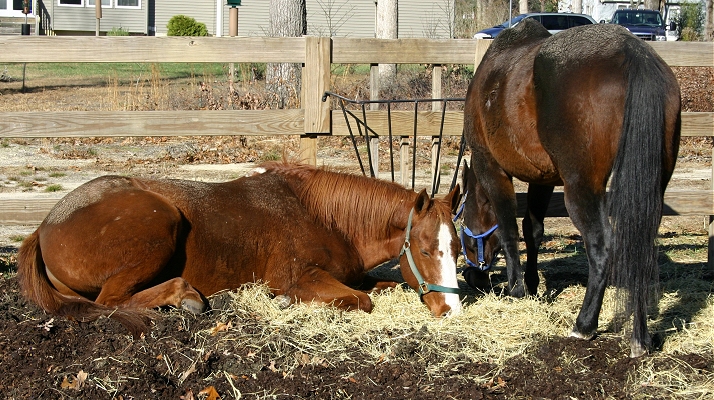 Blueberry Paige (Mustique by Marias Mon) visiting Mickey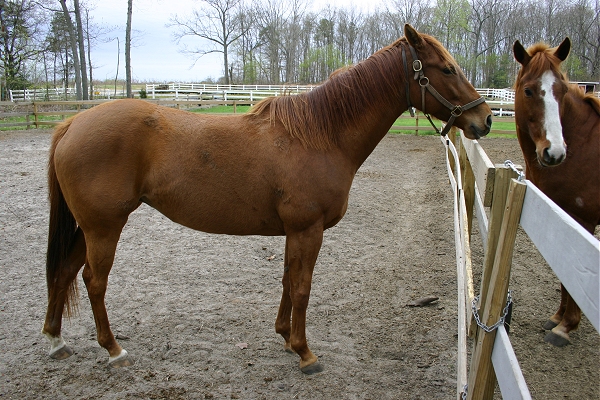 You can contact us via email to mark@techvantage.net